MORNING LARK OR NIGHT OWL, THERE'S ROOM FOR YOU AND A VIEW TO MATCH
MORNING LARK
OR NIGHT OWL,
THERE'S ROOM
FOR YOU AND
A VIEW TO MATCH
For illustration only
Bask in a spaciousness rare for city homes
Wake up to a cityscape gloriously painted by the morning sun. Or stay up with the mesmerising twinkling lights of the river as company. Choose from 1-bedroom to 5-bedroom premium units, expansive sky suites and a super penthouse that is the epitome of exclusivity.
On top of thoughtful layouts that amplify the sense of space, clever design touches give you even more room to play with. The 1-bedroom,1-bedroom+study and 3-bedroom premium units feature a versatile pull-out counter that can serve as an extended food preparation area, dining table or work-from-home station. In the master bedroom wardrobe, a special compartment holds and organises your accessories so you can compose your outfit of the day with flair.
Those who love to cook will delight in the Italian- designed and made Ernestomeda kitchen system. Designer brand Miele provides the hood, hob and oven while the integrated fridge and washer-dryer are from De Dietrich. In the bathroom, premium wares and fittings from Gessi and Laufen create an elegant oasis of rest. Revel in details like the sleek wall-mounted taps and exquisite engineered stone vanities with integrated sink, as well as ample storage that makes room for your luxury toiletries and more.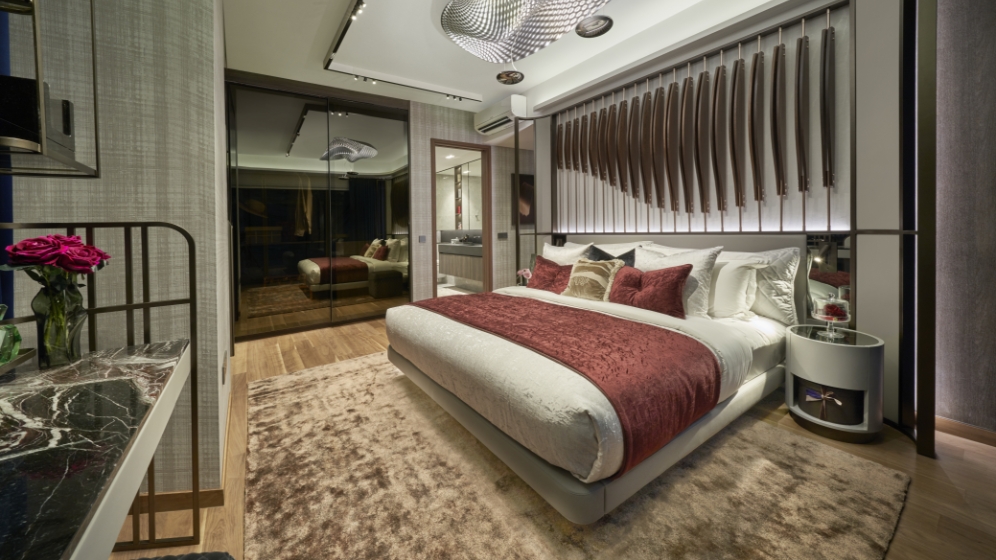 For illustration only
Thoughtful layouts make room for all that you love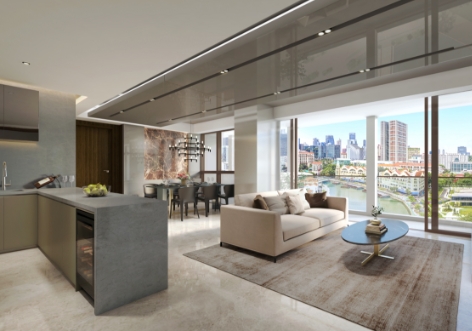 Artist's Impression
Space to cook and entertain in style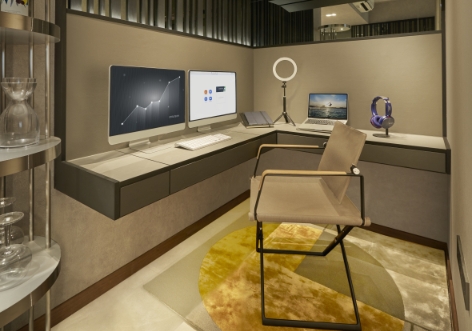 For illustration only
Work from home, elevated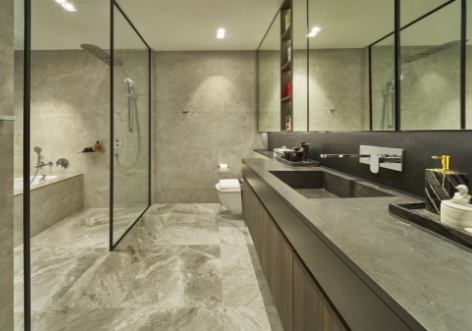 For illustration only
Designer wares and fittings create an elegant oasis of rest
YOUR
FUTURE-READY
HOME
Outfitted with the Smart HomeHub, your home is poised for the integration of new technologies that make life easier, along with greater peace of mind. Pre-installed with the Smart Home app, the provided Smart Tablet Console puts all your smart home devices at your fingertips. The app can be installed on your mobile device too.
View Smart Home Video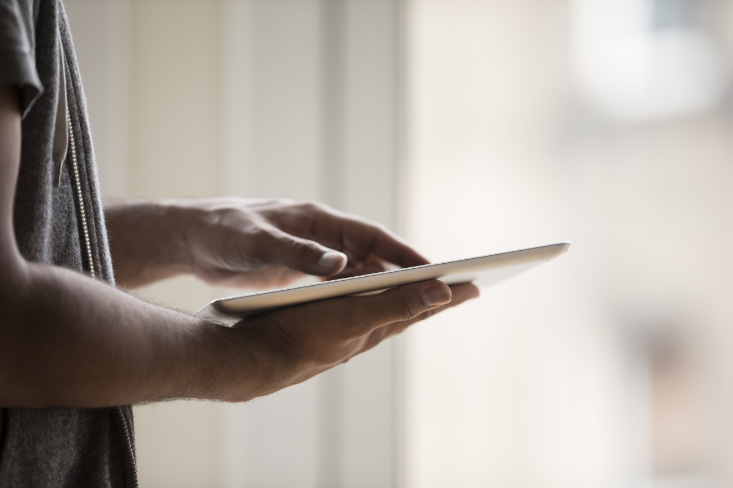 For illustration only
View Smart Home Video
SMART HOME
Smart Air Con

Hot day? Turn on the air conditioning remotely and have the home cooled in preparation for your return.

Smart Siren Alarm

The Smart HomeHub device sounds the alarm in the event of any security breach to deter intruders. You will also receive an alert.

Smart Lighting

Schedule the lights to come on automatically or check if you have forgotten to turn them off.

Smart Motion Sensor

Lights up the foyer automatically for a warm welcome home. The lights also come on when intruders are detected.

Smart Lock

The convenience of locking or unlocking the door remotely. You can also use PIN, biometrics, key or access card.

Smart Smoke Detector

Be promptly alerted so you can call for help if no one is at home to investigate.

Smart Video Doorbell

Get notified when someone is at the door, so you can see who is paying a visit or communicate with them.

Smart Energy Monitoring

Easily keep track of your household electricity consumption to keep up sustainable habits.

Smart Surveillance

Select units enjoy the added security of remote surveillance with an IP camera at the private lift lobby.

Smart Voice Control/Speaker

Handsfree control of your smart home devices. Voice assistant also lets you ask about the news, weather, traffic; set reminders, play music, and more.
SMART COMMUNITY
Smart Booking/Payment

Check on the availability and pay for the booking of facilities. Then check in easily with a QR code.

Smart Invite

Pre-register your visitors and generate a QR invite to allow them easy entry to the development.

Smart Parcel

Parcel station sized to accept packages as well as letters, and sends you an alert to retrieve them.

Smart Audio Video Intercom

Lets visitors announce their arrival at the lift lobby so you can let them in with a simple tap.

Smart Biometric Access

Enjoy contactless access to lift lobbies and other communal areas with the facial recognition system.

Smart Car Wash Bay Monitor

Check if the car wash bays are available and minimise time spent waiting for a spot.